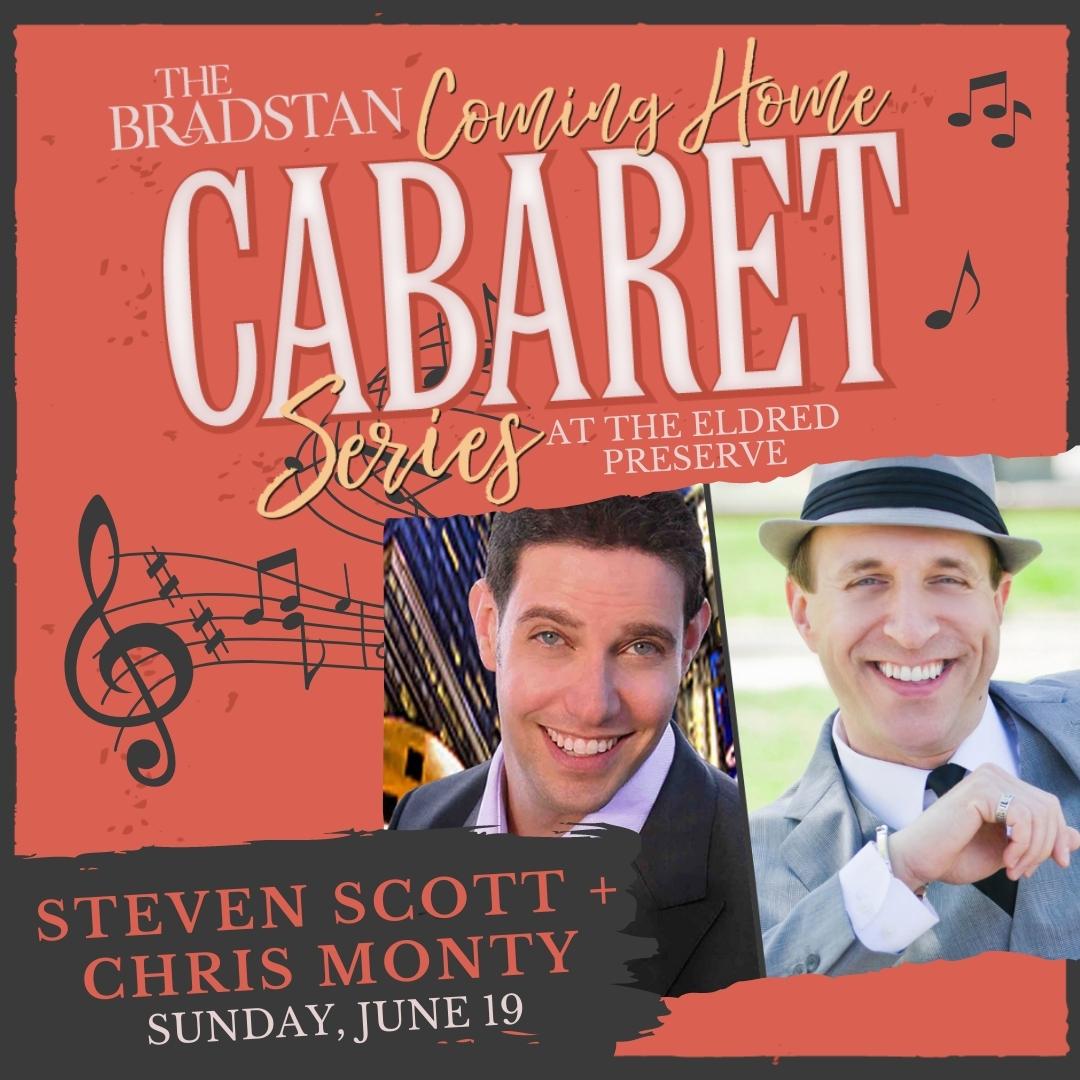 CABARET: Comedy Night Featuring Steven Scott + Chris Monty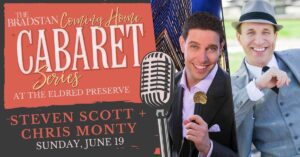 Nearly 15 years after the final curtain at The Bradstan Country Hotel; Inn Cabaret Series fell, the famous Bradstan Cabaret is BACK! 
Join hosts Scott Samuelson + Eddie Dudek for a revival of The Bradstan's famous New York City-caliber cabaret series, taking center stage at The Eldred Preserve. The 2022 Bradstan Coming Home Cabaret Series will feature two talented and well-known comedians, Steven Scott and Chris Monty, on June 19.
BONUS: Tickets include access to our Bradstan Meet + Greet with the evening's performer, and the opportunity to purchase autographed CDs.
Full bar + light bites available | No drink minimum
Join us for dinner at The Homestead Restaurant + Lounge before the show and receive 15% off your meal!
(Proof of ticket purchase required.)
Call +1 845 557 8316 or email dining@theeldredpreserve.com to secure your dinner reservation.
The Bradstan Coming Home Cabaret Series will feature many other incredible performers throughout the season*, including Karen Mason (May 29), Christine Andreas (July 10), The Guthrie Brothers (July 24), Ann Hampton Callaway (July 24), Jeanne MacDonald (Sept. 4), John Pinto Jr. (Oct. 9), and Liz Callaway (Nov. 6). And don't miss the return of Karen Mason on Dec. 11 when she takes the stage to perform her legendary tribute to the holiday season, "The Christmas Show!"
*List not all-inclusive and subject to change. Visit theeldredpreserve.com/2022cabaret for complete details.
ABOUT STEVEN SCOTT
Described as a perfect mix between Jerry Seinfeld and Jim Carey, Steven Scott's comedy combines clever observations of his everyday life with his amazing array of vocal talents, including characters, voices, and sounds ranging from celebrities to musical instruments. As a comedian, actor, and host, Steven has worked with some of the biggest names in show business on both screen and stages from Broadway to the Las Vegas Strip.
Some of his TV appearances include Comedy Central and America's Got Talent, where his performance earned a standing ovation. He's lent his multifaceted voice to a number of commercials, films, and video games and traveled to all seven continents, performing comedy clubs, conventions, cruises, colleges, festivals, roasts, military bases, and more. For more information visit www.StevenScott.tv.
ABOUT CHRIS MONTY
In his stand-up, Chris Monty channels a refreshing and unique style of the 1960's cool funnyman mixed with a modern chic. His unique take on current topics and storytelling are reminiscent of the comics that would keep The Rat Pack in stitches for weeks. He spans generations in that older crowds love his cool, retro style and younger crowds are introduced to a cadence that they haven't seen on stage. It is truly something unique to experience.
With over 20 years of stand-up comedy and television under his belt, Chris Monty continues to delight audiences worldwide. His latest high-profile projects include his stand-up comedy special titled "Just Be Happy," (Drybarcomedy.com) and "What's the Worst That Could Happen" (Amazon Prime). He has also had many television and film appearances, such" as "Vinyl" (HBO), "Red Oaks" (Amazon Prime), "Paul Bart: Mall Cop 2" (Sony Pictures), "Kevin Can Wait" (CBS), and "Orange is the New Black" (Netflix). For more information, visit www.chrismontylive.com.