Jethro Tull's Martin Barre: A Brief History of Tull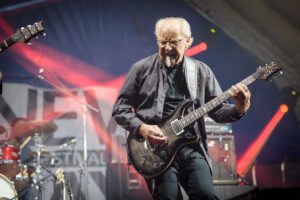 About the Show:
In 1969, a band of four English musicians arrived in New York and literally took America by storm.  Over the next 50 years, this legendary band accumulated over 65 million record sales and a following of loyal fans that are the envy of rock bands worldwide!  This band was Jethro Tull.
At the center of Tull's unique sound is guitarist Martin Barre, renowned for his formidable mastery of historic riffs, power chords and soaring melodic solos.
Martin Barre celebrates the musical journey of Jethro Tull throughout the decades at his new show A Brief History of Tull. The show will feature a special visual presentation that, together with the music, highlights the 50 years of Jethro Tull musical career.
Classic Tull hits played throughout the interactive performance include songs from legendary albums such as Thick As A Brick, Aqualung, Stand Up, Songs From The Wood, A Passion Play, Heavy Horses and many more…
He will be bringing a spectacular show with his touring band, featuring the iconic voice of Dan Crisp on lead vocals, Alan Thomson on bass and Darby Todd on drums.
Join us as Martin takes you back on the formidable journey of Jethro Tull – it will be a show you will not want to miss!